By hiring candidates who are more suited for their roles, you can reduce employee churn. More than just traditional skills, skills assessments can also include personality and culture fit tests to help you identify people who'll thrive in your specific work environment.
ThriveMap
ThriveMap creates bespoke realistic job assessments for high volume hiring. Uniquely their assessments take candidates through a virtual "day in the life" experience of the job to ensure a good fit for the company and the candidate. This approach enables ThriveMap assessments to be used at the start of the hiring process in replace of traditional resumes to better assess capabilities and job suitability.
Xobin
Xobin is an assessment software used by 800+ organizations to screen for job-fit candidates. With smart workflows, Xobin enables hiring teams to create customized candidate experience using Pre-hire tests, Video Interviews and Psychometric tests. What we love about Xobin is the range of tests, from Technology to Analytics, Marketing and Finance roles.
Why Use Recruitment Assessment Tools?
Recruiting software tools simplify the entire candidate screening process, allowing you to find suitable candidates fast. It helps you screen the best candidates that will fit your open position. For this reason, employee turnover is reduced, saving you money that you could have used in frequent hiring. Here are other reasons to consider a recruitment assessment tool.
Focus on Skills
You can focus on what qualifies a candidate based on skills rather than concentrating on the resume. It's all about identifying the best performer and inviting them for an interview. You also get to save lots of time.
Be confident in your hiring decisions
Pre-employment assessment tools can prove that the decisions you are making about a candidate are the right ones. Recruitment assessment tools speed up the hiring process and are more accurate compared to manual recruiting procedures.
Predict Candidate's Skills and Performance
Through assessments, you will determine a candidate's skills and ability to blend perfectly with the organization. If a candidate fits right into your company's culture, you are guaranteed that they will succeed in their duties, hence retaining them for a more extended period.
Prepares managers effectively
Employee assessment tools will help you understand candidates' behaviors, how they socialize, and their approach to organizational duties. You will also appreciate their motivation, which you can use to prepare hiring managers for onboarding purposes.
Creates Robust and Diverse Teams
Using candidates' data, you will focus on their skills, hence build a robust and diverse workforce. The data will also help in creating teams based on the strengths of your employees. With the best teams allocated various duties, it is easier for you to achieve your organizational objectives.
Work samples
The work sample is a piece of actual work that a candidate will complete. Usually, it'll be closely related to the job they applied to. For example, an SEO specialist can be asked to conduct keyword research for one specific topic, an accountant could be asked to apply a few formulas, and a developer may be asked to write a short piece of code.
Of course, work samples shouldn't be so much work that candidates feel they're working for free (this may impact candidate experience and, consequently, your employer brand). Clarity here is essential; communicate clearly to the candidate the purpose of this work sample and that it will not be used for business purposes. In some cases, you may even compensate them for the time invested in producing the sample.
Make sure you're asking them to produce work that's as closely related to the position they're applying to as possible – this way, you can also help them better understand the role and how much they'd like it.
Job simulations
You may have heard of the famous interview question "Can you sell me this pen?". It's usually presented to salespeople to evaluate skills like persuasion and thinking on their feet. This is what a job simulation is.
This type of talent assessment is similar to the work sample, but it involves more on-the-spot work. A job simulation can be done during the interview or via online hiring assessment tools. For example, you can send assessments to candidates that ask them to handle a disgruntled customer over chat, do a presentation, or sell something a bit more complex than a pen.
Similar to job simulation tests are situational interview questions. These questions ask the candidate to explain their reaction to a hypothetical scenario at work. Each candidate's answers shed light on their way of thinking and how they'd approach a tricky situation.
What do skills assessments measure?
1. Acquired knowledge, skills, and experience
The first category is made up of hard skills that are directly correlated to on-the-job tasks. These skills can only be learned through training or direct experience, and are more likely to be role-specific.
One point of note is that while these hard skills are often necessary to do a particular job, they're also easier to train than soft skills. For example, it's much easier to train an employee on a learned skill like Google Ads than to teach them a soft skill like empathy.
2. Cognitive abilities and attributes
You can test personality or situational judgment to assess if a candidate aligns with your organization's expectations and values, or you can test their cognitive abilities to see if they have transferable skills like problem solving or attention to detail.
How to make skills assessments part of your hiring process
When creating a skills assessment, it can be tempting to select a few tests that seem appropriate for your open role and publish them. But for best results, you should take a more strategic approach when incorporating skills assessment into your hiring process to ensure you're testing for all the right things and hitting your overall hiring goals.
Step 1: Identify your current gaps and needs
For example, are there any particular soft skills that are crucial to maintaining or establishing your company culture? If you're a startup with lots of autonomy in every role, you may identify problem solving and critical thinking as key soft skills that no person can be without.
And what technical skills are missing in your organization—even if they're not specific to that role? For example, you may discover that all of your app developers are experts in Python but have limited experience with HTML5. For your next hire, you could target an HTML5 expert.
Step 2: Determine your hiring goals
Start by writing down the knowledge, skills, and abilities that are required for the open role. What technical skills must they possess and what soft skills would be ideal for the role? Balance the needs for the role with the bigger-picture needs you identified in step 1.
Based on that list, decide how you will evaluate or benchmark candidates. And are you looking for a well-rounded candidate who passes a certain benchmark for most of the skills you've listed, or would you rather find a candidate who's a superstar in one or two skills, but may be lacking in other areas?
For example, consider the scenario where you have an employee that checks all the boxes but doesn't show great potential for growth. In some cases, that may be the ideal scenario, as you're just looking for stability. But perhaps you're looking for an organizational climber that may be able to fill a leadership role some day. If that's the case, you may want to put a higher weight on leadership skills or decision-making abilities.
Step 3: Find the right skills assessment tool
A growing number of companies are choosing TestGorilla as their skills assessment tool because of its stellar customer support, cheating prevention features, and integration capabilities with major ATS like Greenhouse and SmartRecruiters. Hiring managers also love how easy it is to create assessments, add custom questions, and rank candidates.
Step 4: Create a skills assessment for your open role
TestGorilla also saves you time and effort by recommending a list of skills tests based on the job function. As an example, for the role of Social Media Manager, TestGorilla recommends these skills tests:
In addition to skills tests, you can also add your own custom questions to an assessment to make sure you've covered everything you want to ask. For example, you can ask candidates to attach their resume or upload a video answering a screening question.
Step 5: Give your skills assessment to job applicants
To direct candidates to your skills assessment, include the link in your job description. This way, you can collect the necessary information like name, email, their test scores (of course!), and any other information you ask with your custom questions.
You can then track how many applicants have completed each assessment and see how they rank based on their scores. The tests have time limits and built-in cheating prevention, so you can be confident that the scores are actually telling of the candidates' abilities.
To evaluate which candidates scored high enough to earn an interview, compare them to the benchmarks or hiring goals you created. This may take some judgment, as the test scores won't always shape up exactly as you had imagined.
For example, should scoring low on one category disqualify a candidate? Probably not. While a low overall score isn't a good sign, a gap in one area may not be the end of the world—especially if it's easily trainable on the job.
Step 6: Re-assess and adjust your assessments over time
As your organization and the role evolve, go back and update your assessment for that role. You may discover another skill that you wished you had tested for, or you may decide your organization has enough skill in a certain category that's no longer needed for the role.
Resources:
https://www.recruiterslineup.com/top-10-recruitment-assessment-tools/
https://resources.workable.com/tutorial/talent-assessment-methods-for-recruiting
https://www.testgorilla.com/blog/skills-assessments-for-recruiters/
Recruitment assessments
The test measures thirty-two performance-relevant traits classified into 3 broad categories – 'Relationship with people,' 'Thinking Style and Feelings,' and 'Emotions.' Candidates have to choose the most or the least relevant statement that describes them from the block of 4 statements.
Activities for Recruitment Assessment Days
Assessment Days are a fantastic way to assess potential candidates during the recruitment process. Team building and problem solving activities provide a less formal and enjoyable recruitment experience for candidates and allow you to see how candidates work in small teams when faced with a challenge, and identify key qualities of candidates to ensure suitability for your company or organisation.
An assessment day is an important part of the recruitment process for many organisations and usually lasts for the best part of a day, or even two days. Assessment days allow organisations to assess candidates over an extended period of time, whilst offering candidates the chance to find out more information about the organisation and the job advertised.
A well-structured recruitment assessment day is generally considered to be amongst the fairest and most objective means of selecting new employees. Interviews are a great way to discuss previous experience with candidates and how they feel they can contribute to your organisation, but team building activities and group exercises, allow assessors to see what they can do, rather than just talking about it.
I recommend purchasing my eBook, The Team Building Activity Book. The book provides full descriptions for over 30 team building challenges including printable challenger briefs, ready to use programmes (including recruitment assessments) and access to exclusive member downloads. Buy it now for $19.99.
During assessment days, candidates are required to participate in a number of individual and group exercises. Assessment days usually consist of an interview, case studies, problem solving/group exercises and presentations (both group and individual). Candidates are also provided with an introduction presentation, tour of the workplace, an opportunity to meet and talk to current employees and a questions and answers session at the end of the day.
Assessment days typically take place at employer's offices, using the meeting room as a base for the day. Some companies like to hire an external venue if space is an issue. As long as you have a large meeting room and another smaller room for the interview and presentation, you are good to go. If you want to run a longer assessment (say 2 days), you could host your assessment at a hotel, hire a conference room, book a room for candidates and provide meals in the restaurant.
Example Assessment Day Breakdown
Group exercises are used to assess a candidate's behaviour when working with others, and the overall group dynamics involved in the task. Each exercise will vary in detail, with the ability to identify different key skills, but the structure and format tend to remain the same.
Groups will be provided with a challenge, usually a team building activity and they will then have x amount of time to work together to complete the challenge. The purpose of these exercises is to test candidate's ability to work as part of a team, their ability to work under pressure, how they communicate with others and if they demonstrate the skills required for the job role.
Not only can group exercises be used to highlight and identify strengths, but it can also be used to identify any negative or destructive behaviours such as to whether they are short-tempered, aggressive or selfish.
Due to the workplace relevance, recruitment teams can use group exercises to judge how well a candidate will perform in the real workplace and what qualities candidates possess, making this a useful selection tool.
Thanks to an insight into candidate's behaviour and overall performance during group exercises, it is considered a reliable and powerful recruitment tool, playing an important aspect in the final recruitment decision.
How Personality Assessments Can Help You?
A personality test software is used for integrating technology into the recruitment process, which makes it convenient for organizations to find, hire, develop and engage talent. By combining the personality assessment with a digital platform, recruiters can streamline their hiring process and make well-informed hiring decisions. An integrated personality assessment software can allow candidates to take tests online at a time and place of their choosing and help organizations deliver a great candidate experience.
A Checklist for Choosing the Best Personality Assessment Tools:
Customization – Personality assessment tools that can be easily customized to the requirements and competency frameworks of your organization.
Language Support – Personality test tools available in multiple languages to cater to global businesses.
Role & Rank Specific – A personality assessment system that is specifically designed to cater to a spectrum of roles and levels, from leadership assessments to blue-collar tests.
Valid & Reliable – Personality assessment tools that are normed on a large heterogenous sample
Vetted Support – Subject matter experts who are recognized by a leading body, such as SIOP.
Cost Effective – To ensure you can administer personality assessment tools at scale, budget is an important consideration.
Virtual Platform & Proctoring Prowess – A virtual and robust personality test software with proctoring capabilities can ensure a seamless and secure experience at scale.
Liberate
your team with ultimate control
Fairness by design is at the heart of what we do. There's a perfect role for every person, and creating opportunity means assessing for potential, not track record. Sova's commitment to intelligent, ethically applied AI helps you to consistently make fair decisions that support more diverse hiring and progression.
Customer Stories
Frequently Asked Questions
Online or virtual hiring does not need to feel distant. Unlike some applications of online employment software, Sova offers a seamless assessment journey for candidates and hiring managers using video interviews, virtual assessment centres, and engaging online assessments. The outcomes are just as valid, if not more so than face-to-face hiring processes where inconsistency between hiring managers can lead to bias or a mixed candidate experience.
To reduce carbon footprint, lessen the need for travel, or to deal with large volumes of job applications, a virtual assessment centre provides an opportunity to include group exercises, meetings, interviews, and job previews within your hiring process. The entire day can be hosted online using a customised welcome page on Sova's online assessment platform that includes your branding, video interview software, the facility to interviews, and your choice of assessments. Live scoring and reporting reduce the administration burden and speeds up the process.
Sova is much more than a hiring platform. Our clients get the most value from using Sova as a full talent management platform, including internal talent development and leadership development assessment. Data points are collected at every stage meaning that performance, promotion, and development can be mapped and analysed across the organisation well beyond the hiring processes. A joined-up view of your data over time provides the opportunity to improve your processes and the outcomes for each candidate.
Our technology team manages integrations with all major applicant tracking systems and we are adding more on a regular basis. We work closely with you to integrate the systems required to provide a seamless and smooth process for candidates, hiring managers, and the talent acquisition team.
Resources:
https://ventureteambuilding.co.uk/activities-for-recruitment-assessment-days/
https://blog.mettl.com/personality-assessment-tools-for-hiring/
https://sovaassessment.com/
Recruitment assessments
Created by Multi-Health Systems, Inc., the EQ-i 2.0 may be the best way to assess a candidate's emotional intelligence. The assessment breaks down a person's overall EQ score into five composite scores and 15 "subscales," which include things like "emotional expression" and "problem solving." This allows for the assessment to produce truly granular pictures of potential hires.Workplace psychologist Christine Allen, Ph.D., told us she uses the assessment often. She noted one case in which results from the EQ-i 2.0, in combination with other assessments, helped a company she worked with "[prevent] a preferred candidate who may have significantly derailed from getting the position." At their best, this is exactly what personality assessments should help employers do: make more nuanced decisions about who is truly a good fit.Learn more.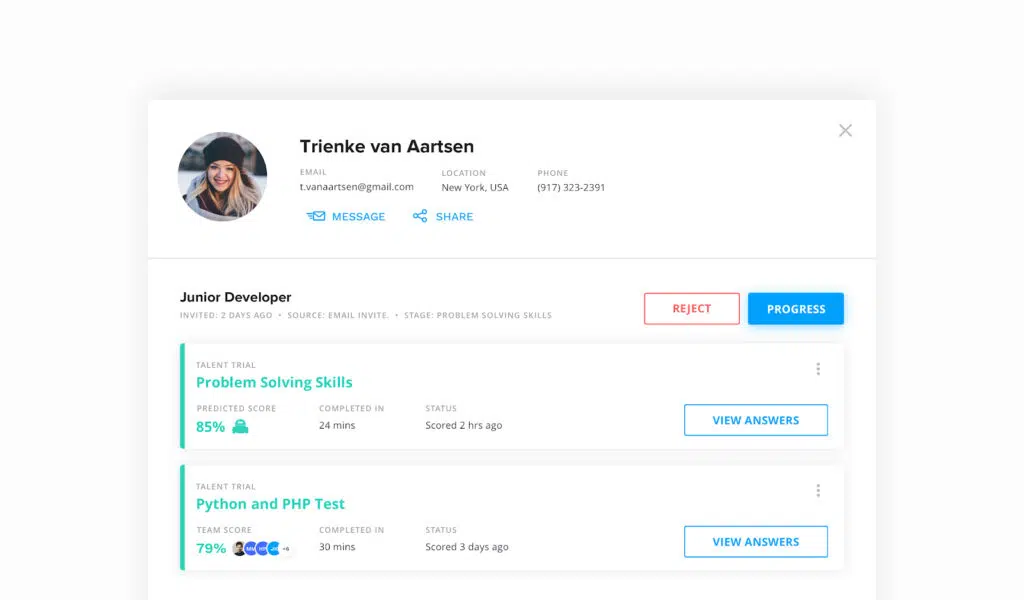 What is a Skill Test?
Typically, a skills test asks a variety of questions in different formats to see how candidates perform on-the-job tasks. A good skills test includes questions that are capable of being answered by someone already doing the job and can accurately measure key performance metrics. Questions should also be specifically tailored to relate to the responsibilities of an open position. Many skills tests include immersive experiences, like coding challenges or job simulations, to mimic how a candidate performs when faced with a real-life scenario.
Other types of job-readiness evaluations deploy validated psychometric assessments to identify those in-demand soft skills: things like motivation, conscientiousness, resilience, and emotional intelligence. A personality assessment varies from a skills test in that it predicts how a person will behave in a specific scenario, rather than their ability to complete a task.
While skills test cover task-related abilities, like coding, copywriting, or sales, some pre-employment assessments integrate the less tangible capabilities – things like teamwork and leadership. These qualities are sought after by executives at more than 900 companies, according to a Wall Street Journal survey of executives.
Yet, 89% of those surveyed said they have a "very or somewhat difficult time finding people with the requisite attributes." Where traditional hiring methods fall short, a skills test can easily clarify a candidate's true talent.
"Many service companies, including retailers, call centers, and security firms, can reduce costs and make better hires by using short, web-based tests as the first screening step. Such tests efficiently weed out the least-suitable applicants, leaving a smaller, better-qualified pool to undergo the more costly personalized aspects of the process."

Research by John Bateson, Jochen Wirtz, Eugene Burke and Carly Vaughan via Harvard Business Review
Overall, skills tests can play a critical role in predicting on-the-job success. More so than resumes or job interviews, a skills test can assess the true potential of a new hire to go the distance with the company. Here's how skill testing works, and why more companies than ever are starting to integrate skill testing into the recruitment and hiring process.
Benefits of an online assessment platform for recruiters:
Automation: Reduces the burden of manual test administration by automating the entire process. This saves recruiters time, energy, and valuable resources that can be put to better use in the organization.
Accurate Data Interpretation: Measurable and accurate insights are gleaned from a combination of smart algorithms, data science, and computing power that eliminate human error. This is more accurate than humanly-interpreted data.
Emotion Recognition and Analysis: Online tests are able to capture and read the emotions and actions of the candidates, which a recruiter might miss out, much more accurately. Detailed reports on various parameters, such as this one, required by the hiring manager can be downloaded instantly to analyze results.
Requires Minimal Resources: Hiring and training costs are minimized, the hiring process is less time-consuming, and there is a drastically reduced risk of legalities associated with biased hiring.
Disadvantages of online assessment platforms:
Not much can be said about the disadvantages of online assessment platforms. These platforms are great tools for assessing the right candidate for the right job and work out well for both recruiters and applicants. However, the dynamics could change if the online assessment platform is not used properly. For example, if the right kinds of tests are not used and the right questions are not asked during the assessment, the results will not accurately measure the ability of an applicant to perform a particular task.
1. Talview
Talview's online assessment platform is a multi-faceted tool that supports various test formats (among other things) such as MCQ, Essay Tests, Coding tests, Grammar tests, Typing, and Psychometric tests. These aptitude and skill tests can be conducted using this software. The platform is highly configurable and supports multi-section workflow to screen candidates between several sections of the assessment.
Talview's remote proctoring does more than 18 checks including background voice activity monitoring, browser policing, and face detection. It provides an integrity score for those applicants who successfully complete the assessment.
Talview's online assessment platform and its video proctoring capability work across multiple devices – both Android and iOS. A 100% automated cognitive remote proctoring tool ensures the authenticity of the candidate's score of the online written assessments.
2. Berke
This is a customizable test that measures intelligence and personality. Recruiters can build several hiring profiles – lists of desirable traits and problem-solving abilities and compare each applicant's results against these profiles.
3. Codility
This is a tech recruitment assessments software that supports technical interviews and coding challenges to evaluate and hire programmers. Recruiters can create their own tests and evaluate candidates' codes and hire the best candidates.
4. HireSelect by Criteria Corp
5. Saberr
Saberr assesses cultural fitness. It can determine if an applicant has the necessary values to work in your team. The software can also determine how well an applicant will get on with individual team members.
6. HR Avatar
HR Avatar offers simulation-based assessments that measure cognitive ability as well as job knowledge. The assessments are animated and simulate real-job situations to see how you deal with real-time job-related problems.
Top 10: Pre-Hire Personality and Behavioral Assessments
Welcome to Top 10, Recruiter.com's weekly rundown of the best of the best in recruiting! Every Friday, we release a list of some of our favorite people, things, and ideas dominating the industry. From awesome tech tools and cool companies to great books and powerful trends, no stone in the recruiting space will be left unturned.
Technical skills matter when you're making a hire, but they're only part of the picture. You don't just want to hire someone who can do the job; you want to hire someone who can do the job while thriving in the company's culture and building bonds with teammates. You want someone who believes in what your organization is doing – not someone who just shows up for the paycheck.
A good way to get a handle on how your potential hire will fit in at your office is to have them take a personality or behavioral assessment. The results from these assessments – provided you're using the right ones and interpreting the results properly – can be immensely helpful in pinpointing which candidates are best suited to the job, the team, and the organization.
Before we begin, it's useful to note that while these assessments can be very helpful, they are only one piece of the hiring puzzle. You should never make decisions based solely on the results of these tests.
To quote Taylor Dumouchel of Peak Sales Recruiting, who also nominated the DiSC personality test for our list, "[A]ssessments should be used as part of a complete and structured interview [process]. Candidate assessment processes [should not be] valued at more than 20 percent of your hiring decision."
Created by Multi-Health Systems, Inc., the EQ-i 2.0 may be the best way to assess a candidate's emotional intelligence. The assessment breaks down a person's overall EQ score into five composite scores and 15 "subscales," which include things like "emotional expression" and "problem solving." This allows for the assessment to produce truly granular pictures of potential hires.

Workplace psychologist Christine Allen, Ph.D., told us she uses the assessment often. She noted one case in which results from the EQ-i 2.0, in combination with other assessments, helped a company she worked with "[prevent] a preferred candidate who may have significantly derailed from getting the position."

At their best, this is exactly what personality assessments should help employers do: make more nuanced decisions about who is truly a good fit.

Learn more.
Also recommended by Dr. Allen, the Workplace Big Five, which is produced by the Center for Applied Cognitive Studies, takes the widely used five-factor model of personality and applies it to workplace situations. The test only takes about 10-15 minutes to complete – which is great news for candidates – and despite its brevity, it produces fairly complex pictures of people's personalities.

By presenting an individual's personality in terms of 5 "supertraits" and 23 "subtraits," the Workplace Big Five can give employers a look at how a given candidate might act in certain work-related situations, thereby allowing employers to make better predictions about whether or not said candidate will thrive in their workplace.

Learn more.
Aaron Dyess, the president of marketing agency Captevrix, recommended The Predictive Index (PI) because its "simple evaluation process … paired with the industry-leading results have helped [him] evaluate and select not only qualified employees, but employees that fit the personality of [his] workspace and job requirements."

Dyess also praised the ease of administrating and interpreting the PI: "The analysis takes a candidate approximately 10 minutes and delivers quantifiable data I use to assist in hiring. This was important to me, as I did not want to be overwhelming with personality tests. I wanted something that didn't feel intrusive [but] still provided me with the data I needed for hiring decisions."

Learn more.
One of the most established workplace personality assessments, the SHL Occupational Personality Questionnaire has been around for more than 30 years. Now owned by CEB, the questionnaire helps employers identify behaviors that directly impact job performance – and candidates who are most likely to be dependable workers based on these behaviors.

Marc Prine, director of consulting and assessment for consulting firm Taylor Strategy Partners, told us that the questionnaire was one of his preferred assessments because it "does a great job measuring behavioral tendencies."

Learn more.
Here's another one recommended by Prine: the Hogan Development Survey, which purports to uncover the "dark side" of people's personalities.

Resources:

https://vervoe.com/skill-testing/
https://blog.talview.com/online-assessment-platforms-in-recruitment-why-and-how
https://www.recruiter.com/recruiting/top-10-pre-hire-personality-and-behavioral-assessments/